Let's Talk About Sex-ualization
Mixed and exotic
4 years ago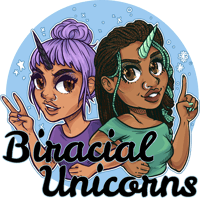 This week we dive into the challenging topic of sexualization. After a short check-in ( it's allergy season) we breakdown the definition of sexualization and share our own experience being "Holla'd" at.
We begin tackling this topic by addressing that the sexualization (though we do see it in men as well) greatly impacts ALL women BUT that we see an increase in intensity towards WOC and a further focus towards mixed-race women.
We break-off and give an example of one of the first recorded exploitation of a WOC in the story of Sarah Baartman. We also share some disturbing stats involving women's portrayal in *media*.
While expressing our frustration with common phrases and "compliments" given to mixed-race women we FINALLY confront our feelings with the word exotic ( spoiler: they're not good feelings). The popular television show " The Bachelor " makes its way into our discussion while talking about the hypersexualiaztion of Hapa women in our culture.
Closing up our discussion we encourage men to use there influence to boldly call out sexualization.
We end in our much needed happy place this week but our happy place wouldn't be a happy place without tangents!
Thanks to Josef Scott of Citizens of Tape City for our theme music and Dollipop Art for our podcast artwork - you can find her on instagram @dollipop.art.
We want to hear from you! If you have a question you'd like us to answer or a topic you'd like us to cover on the show, drop us a line at [email protected].
Like us on facebook or follow us on instagram to join in on the discussion - we're @biracialunicorns. We're now on twitter as @biracialmagic so catch us there too.
Please review us wherever you get your podcasts or even better - steal your friend's phone and subscribe so they have to listen. :D
Find out more at https://biracialunicorns.pinecast.co
This podcast is powered by Pinecast.