Woke College
Bridging Diversity Groups, Identity, and Friendship
1 year ago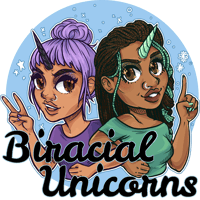 In this episode we take on a topic brought to us in a listener's email.
It's our delight to be answering a listener question this week, and it's all about building bridges between diverse groups both on and off college campuses. Our listener Zoe emailed us about her experience as a Biracial Unicorn and asked us our approach to "woke colleges." We value these questions deeply on our show because they are very much the back bone as to why Biracial Unicorns exist. So this week we discuss some foundational topics through the lens of the woke college experience. This week you'll hear us discuss:
Why this topic is so poignant to Unicorns
How "woke-ness" is not a linear journey, nor is it your identity 
It is not a mixed person "job" to unite all diverse groups
What is diversity anyway?
Why can't all BIPOC just "come together"?
How shared trauma is not enough to unify diverse groups
How shared joy may be the key to building bridges
As we end the show, it's all about cozy comforts for this week's Happy Place -hint*, It's all about holiday dysfunctions and nerdy spin-off's. 
A special thank you to our listener Zoe who took the time to write in. We truly appreciate it and it's why we do what we do. As always, we welcome questions or topics that our listeners are interested in. Our information on how to get ahold of us is listed down below.  
Thanks to Josef Scott of Citizens of Tape City for our theme music and Dollipop Art for our podcast artwork - you can find her on instagram @dollipop.art.
We want to hear from you! If you have a question you'd like us to answer or a topic you'd like us to cover on the show, drop us a line at [email protected] or leave us a voicemail at (505) 585-1808.
Like us on facebook or follow us on instagram to join in on the discussion - we're @biracialunicorns. We're now on twitter as @biracialmagic so catch us there too.
If you'd like to support the show with some cash money visit us at https://www.buymeacoffee.com/biracialunicorn
Please review us wherever you get your podcasts or even better tell your friends to listen. :D
Find out more at https://biracialunicorns.pinecast.co
This podcast is powered by Pinecast.