Celebrate AAPI Heritage Month
1 year ago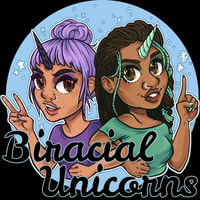 In this episode we're celebrating AAPI Heritage Month, let us know how you're celebrating!
Trigger Warning - Brief mentioning of physical assault in the first 20 minutes
New week, new episode, and this week we are celebrating Asian American and Pacific Islander Heritage Month (AAPI). In our efforts to amplify AAPI Unicorns, we're taking some time today to not only discuss how we are celebrating AAPI Heritage Month, but also some topics of concern within the community that we can all be educated on. In this episode we'll hear us discuss:
The acts of physical violence done to Asian Americans and the uptick of incidents since Covid- 19
Colonization and Hawaii
The overtourism  of Hawaii and its negative impacts to the island and its people 
Hawaii during the pandemic 
Can we appreciate Hawaii without traveling to it?
We share some exciting reads centered around AAPI 
We share a couple video series (linked below) with AAPI content 
We fangirl over Michelle Yeoh as we discuss the movie Everything Everywhere All at Once (No spoilers, we promise)
We end our episode as always, in our Happy Place hint - Rappers, authors, and dairy products will always leave you feeling just right. 
https://asianauthoralliance.com/ https://www.youtube.com/c/AsianAuthorAlliance/about https://www.youtube.com/user/smithsonianapa
Thanks to Josef Scott of Citizens of Tape City for our theme music and Dollipop Art for our podcast artwork - you can find her on instagram @dollipop.art.
We want to hear from you! If you have a question you'd like us to answer or a topic you'd like us to cover on the show, drop us a line at birac[email protected] or leave us a voicemail at (505) 585-1808.
Like us on facebook or follow us on instagram to join in on the discussion - we're @biracialunicorns. We're now on twitter as @biracialmagic so catch us there too.
If you'd like to support the show with some cash money visit us at https://www.buymeacoffee.com/biracialunicorn
Please review us wherever you get your podcasts or even better tell your friends to listen. :D
Find out more at https://biracialunicorns.pinecast.co
This podcast is powered by Pinecast.