Settler-Colonialism
...unsettling
1 year ago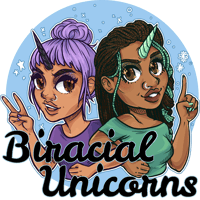 In this episode we explore the huge topic of Settler Colonialism and our own relationships to that system.
If you thought we were going to let the fall season continue without an episode about colonialism, then you don't know your Unicorns. This week we start with a land acknowledgment (and in true Unicorn fashion, we have mixed-feelings about land acknowledgments). We then attempt in 60 minutes to summarize the complexity and pervasive topic that is settler-colonialism and it's significance to mixed-race BIPOC.  In this episode you'll hear…
What sets settler-colonialism apart from various other types of colonization 
Us share the inward battle of the mixed-race existence as a result of colonialism 
What are the  "camps" or roles we participate in a settler-colonialists society 
Why it's important for you to understand your role in settler-colonialism 
If you think you have a Native-American Great-Grandmother, you probably don't…
The attempted erasure of Indigenous people 
The ongoing byproduct of settlers-colonialism- "one drop rule", blood quantum, shift in power dynamics within Indigenous people groups
Why American society in particular is NOT (and may never be) ready to "decolonize" settler-colonialism. 
We bring our show to a close with our Happy Place *hint- it's all about bootylicious TedTalks and Netflix phenomenons. 
Check out the work of and give to:
Thanks to Josef Scott of Citizens of Tape City for our theme music and Dollipop Art for our podcast artwork - you can find her on instagram @dollipop.art.
We want to hear from you! If you have a question you'd like us to answer or a topic you'd like us to cover on the show, drop us a line at [email protected] or leave us a voicemail at (505) 585-1808.
Like us on facebook or follow us on instagram to join in on the discussion - we're @biracialunicorns. We're now on twitter as @biracialmagic so catch us there too.
If you'd like to support the show with some cash money visit us at https://www.buymeacoffee.com/biracialunicorn
Please review us wherever you get your podcasts or even better tell your friends to listen. :D
Find out more at https://biracialunicorns.pinecast.co
This podcast is powered by Pinecast.