Unicorn Library: Caucasia
a look at the novel by Danzy Senna
4 months ago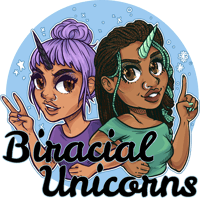 In this episode we discuss Danzy Senna's first novel, Caucasia.
We are in the Unicorn Library with Caucasia by Danzy Senna. This book is part of our June toolkit, please make sure to check out the rest of June's toolkit resources. This stores is told from the perception of Birdie, a white passing mixed-race girl from Boston in the mid-1970's. Birdie and her darker complected older sister Cole are so close they even have their own language. As racial tensions swell in the sister's home time and their parents spilt, the two sisters are separated. Cole goes off with their father (who is black) and Birdie goes with their mother (who is white). The story follows Birdie as she is forced to pass as white while she and her mother are on the run. This heartbreaking and provoking story allows us to ask the hard question about race, identity, and perception. In this episode you'll hear us discuss:
Who is Danzy Senna?
Seeking parent approval.
The dynamics of interracial marriage. 
Raising mixed race children.
A dive into the identities of the main characters. 
Can you love someone when you don't love yourself?
What is passing
Wanting to be seen
What or where or who connects us to our identity 
We spend some time in the episode to say Happy Pride!! We also encourage our listeners to support their LGBTQIA2+ family. We then urge you in Getting Mad At The World not to "buy in" to rainbow capitalism. 
We end our episode in our Happy Place, hint* Dameca is playing with death, and Dani can't put down the books. 
Thanks to Josef Scott of Citizens of Tape City for our theme music and Dollipop Art for our podcast artwork - you can find her on instagram @dollipop.art.
We want to hear from you! If you have a question you'd like us to answer or a topic you'd like us to cover on the show, drop us a line at [email protected] or leave us a voicemail at (505) 585-1808.
Like us on facebook or follow us on instagram to join in on the discussion - we're @biracialunicorns. We're now on twitter as @biracialmagic so catch us there too.
If you'd like to support the show with some cash money visit us at https://www.buymeacoffee.com/biracialunicorn
Please review us wherever you get your podcasts or even better tell your friends to listen. :D
Find out more at https://biracialunicorns.pinecast.co
This podcast is powered by Pinecast.