Unicorns at the Movies: Little White Lie with Jesi Smith
A look at the documentary by Lacey Schwartz with special guest unicorn Jesi Smith
3 months ago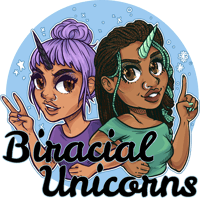 In this episode we take look at the documentary Little White Lie by Lacey Schwartz with special guest unicorn Jesi Smith
It's a double feature here at Biracial Unicorns! Not only are we reviewing Lacey Schwartz's documentary, Little White Lies, we also have company!  Jesi Smith of So Smith Photography joins us on the show to discuss adoption, identity, and her experience growing up Jewish.  
Little White Lies, written, directed, and produced by Lacey Schwartz, tells her story as a mixed-race black WOC…that didn't know she was mixed. Lacey lived most of your young life believing she was a white jewish girl from Woodstock, New York until, she entered high-school where here darker complication and curly hair raised questions amongst her black school mates. Schwartz's documentary tells the story of family secrets, identity, and self-discovery. We hope you watch it and discuss it with your favorite Unicorns. In this episode we discuss:
The similarities between Lacey's experience and Jesi's experience We ask the question, "What are you?" We ask what identity looks like for someone in an interracial adoption How others perception of us impacts how we identify ourselves What is passing? Is it considered passing if you're not aware you are a BIPOC?
We ask Jesi to hang out with us for our Happy Place *hint… it's good to be together again.
Jesi was born and raised in the Chicago suburbs before attending university in Ohio where she met her husband, and starting their journey as an Air Force family. She is an internationally published photographer who specialized in weddings, birth and lifestyle family portraiture currently residing in southern Oklahoma. She is a mother of three, an activist for the LGBTQ community and an avid traveler. You can reach out to her view instagram @sosmithphotography or at her website at: _ https://www.sosmithphotography.com/2020/12/4/i6pi1q8fikhzfcfw6bjg3fu2yb0sjy_
Thanks to Josef Scott of Citizens of Tape City for our theme music and Dollipop Art for our podcast artwork - you can find her on instagram @dollipop.art.
We want to hear from you! If you have a question you'd like us to answer or a topic you'd like us to cover on the show, drop us a line at [email protected] or leave us a voicemail at (505) 585-1808.
Like us on facebook or follow us on instagram to join in on the discussion - we're @biracialunicorns. We're now on twitter as @biracialmagic so catch us there too.
If you'd like to support the show with some cash money visit us at https://www.buymeacoffee.com/biracialunicorn
Please review us wherever you get your podcasts or even better tell your friends to listen. :D
Find out more at https://biracialunicorns.pinecast.co
This podcast is powered by Pinecast.