Unicorns at the Movies: Candyman
and the horror films of Jordan Peele
9 months ago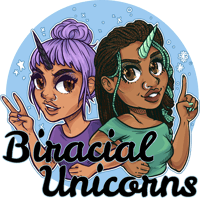 In this episode we take a look at the new(ish) film, Candyman and touch on the other horror films of Jordan Peele.
_Warning this is a movie review of 2021 Candyman. This episode contains HEAVY spoilers_
It's October and we're getting into the "spirit". We're starting this season off right by watching and reviewing the 2021 version of Candyman written by Win Rosenfeld, Nia DaCosta, Jordan Peele, directed by Nia DaCosta. In this movie review you'll hear…
First impressions Candyman-1992 Themes- Gentrification, police brutality, generational trauma The significance of Candyman White people's role in the movie How the movie has been perceived and received The horror of Jordan Peele Get Out and Us The increase of representation in the horror/Thriller genre Our all over thoughts 
Even our Happy Place this week is getting the spooky treatment, *hint - Pale Man and cemeteries have us fan girl-ing this fall season. 
Did you see Candyman? Tell us your thoughts, we'd love to hear them! Also, if you have a movie you'd like us to review please reach out, we have all our our information listed down below. If you're hankering for more Unicorn eeriness, check out our mini Spooky-sodes!  
Thanks to Josef Scott of Citizens of Tape City for our theme music and Dollipop Art for our podcast artwork - you can find her on instagram @dollipop.art.
We want to hear from you! If you have a question you'd like us to answer or a topic you'd like us to cover on the show, drop us a line at [email protected] or leave us a voicemail at (505) 585-1808.
Like us on facebook or follow us on instagram to join in on the discussion - we're @biracialunicorns. We're now on twitter as @biracialmagic so catch us there too.
If you'd like to support the show with some cash money visit us at https://www.buymeacoffee.com/biracialunicorn
Please review us wherever you get your podcasts or even better tell your friends to listen. :D
Find out more at https://biracialunicorns.pinecast.co
This podcast is powered by Pinecast.